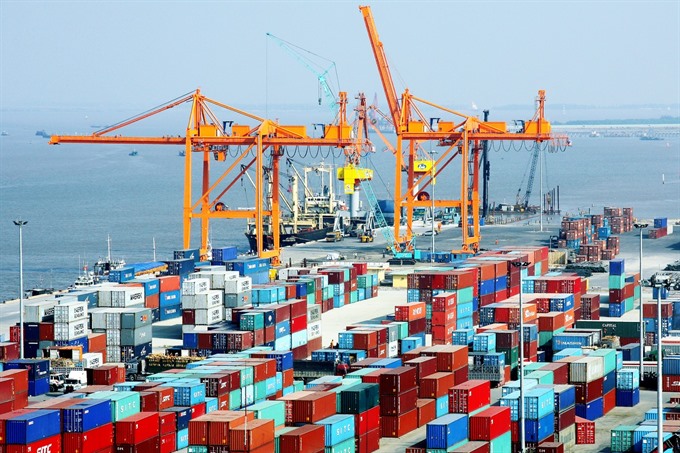 According to Decision No 200/QĐ-TTg, which was promulgated in February, the competitiveness of Việt Nam's logistics services is to be boosted by 2025, ensuring that logistics will become an important service sector in the economy.
The PM asked the ministry to lower logistics costs to 18 per cent of the country's gross domestic product (GDP) by 2025, thus improving the sector's competitiveness. This could help increase the competitiveness of the commercial sector in particular and the economy in general.
However, many big firms operating in the logistics sector have struggled to cut costs.
For example, the northern city of Hải Phòng should revise fees for the use of infrastructure, service facilities and public utilities at ports in the city. Last December, the city's People's Committee promulgated a resolution regulating fees for construction, infrastructure, service buildings and public utilities at ports. Under the resolution, individuals and organisations that have shipments stored at bonded warehouses must pay between VNĐ2.2million (US$97) and VNĐ4.8million ($220) per container, an increase of nearly 70 per cent on the previous level.
The new fees, which took effect from the beginning of this year, has increased the cost of implementing logistics services.
Nguyễn Tương, Deputy General Secretary of the Việt Nam Logistics Business Association said conditions related to logistics services still caused difficulties for businesses' development.
Based on the Law on Investment 2014, logistics has been a conditional business line, with the aim of creating a legal framework for State management agencies to effectively manage the services, according to Tương.
He said that if the transportation service providers had to pay high unofficial fees, this could considerably increase costs as transport accounts for up to 60 per cent of logistics costs.
He suggested that the Government should thoroughly implement Decision 200, focusing on four factors of the country's logistics service system. These include policies and regulations regulating the logistics sector, infrastructure, logistics providers and customers.
In addition, the Government should take measures to help the logistic service sector contribute 8-10 per cent to GDP, achieve a growth rate of 15-20 per cent and reduce costs to 16-20 per cent of GDP by 2025.
It also targeted to bring Việt Nam into the top 50 countries with developed logistics services.
According to the World Bank's ranking, Việt Nam is 64th out of 160 countries in the world and 4th in ASEAN after Singapore, Malaysia and Thailand in logistics development.
With the average growth rate of 16 to 20 per cent a year, logistics has been one of the service sectors with stable development in Việt Nam over the past few years