Discover the remarkable performance of Vietnam's cashew nut exports in the first half of 2023. With a focus on quality, sustainability, and global demand, the cashew industry continues to thrive. In this article, we delve into the latest export figures, market trends, and the contributions of Visimex as a leading player in Vietnam's organic agriculture sector.
Cashews Export Turnover in the First 6 Months
Vietnam's cashew nut export turnover in the first half of 2023 soared to a remarkable 1.61 billion USD, completing 51% of the annual export value target set by Vinacas. Let's explore the factors contributing to this exceptional achievement.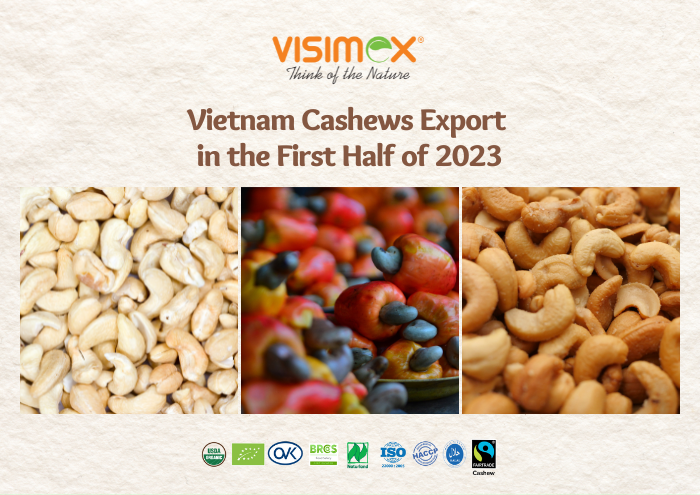 Strong Growth in June: Volume and Value Surge
In June 2023, Vietnam's cashew exports reached new heights, with 56,000 tons of cashew nuts valued at 325 million USD. This represents a significant increase of 20.2% in volume and 13.8% in value compared to the same period in 2022. The surge in demand and quality of Vietnamese cashews is driving this positive growth.
Leading the Global Market: Export Figures and Market Insights
Accumulated over the first 6 months of 2023, Vietnam exported an impressive 276,000 tons of cashew nuts, amounting to 1.61 billion USD. This reflects a robust growth rate of 9,49% in volume and 7,65% in value compared to the same period last year. Additionally, cashews are among the agricultural products with export turnover surpassing 1 billion USD, alongside vegetables, rice, and coffee.
Navigating Challenges and Global Demand
Despite the encouraging growth, the cashew industry faces challenges related to global demand and market fluctuations. The Vietnam Cashew Association (Vinacas) has set a target of exporting 3.1 billion USD worth of cashew nuts in 2023, amid a challenging global cashew kernel market and an unpredictable raw material landscape.
Vietnam's cashew nut exports in the first half of 2023 showcase remarkable growth and resilience in the face of global challenges. With strong performance in key markets such as the US, China, and the Netherlands, Vietnamese cashews continue to gain popularity worldwide. As the industry's success story unfolds, Visimex remains at the forefront, driving sustainable practices and ensuring the highest quality standards for customers. Stay tuned for more updates on Vietnam's thriving cashew industry.
As a pioneer in organic agriculture with 20 years of experience, Visimex plays a significant role in Vietnam's cashew industry. Their commitment to quality, sustainability, and customer satisfaction has contributed to the remarkable growth of Vietnamese cashew exports. With Visimex as a trusted partner, customers can rely on their expertise and extensive network to source the finest cashew products.
Discover our products by clicking here
Follow our LinkedIn