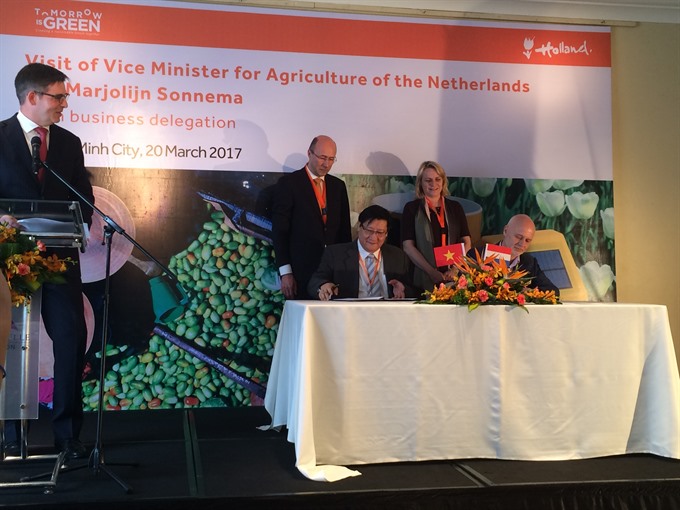 Eduard Hoeberichts, CEO of Fabmax, and Dr Lê Hoài Quốc, president of the Saigon High Tech Parks sign an agreement to assist SHTP Labs produce and distribute power FET devices in Việt Nam.
Dutch Vice Minister for Agriculture Marjolijn Sonnema said the Netherlands and Việt Nam are very similar countries, both with deltas and being major producers and exporters of agricultural products.
She is leading a trade mission comprising 20 Dutch companies and knowledge institutions to Việt Nam from March 20 to 23 to explore business opportunities.
In 2014 the two countries signed a Strategic Partnership Arrangement to create a framework for long-term co-operation in Sustainable Agriculture and Food Security.
Many Dutch companies are operating in Việt Nam and "many other Dutch companies and institutions intend to trade foods and exchange knowledge and technology with Việt Nam," Marjolijn said.
"Hopefully we can continue our trading tradition and make it even more beautiful by co-operating on knowledge and technology, which can help a lot to improve quality and efficiency in agriculture."
Tom Kompier of the Dutch embassy in Hà Nội said the Cửu Long (Mekong) Delta plays an important role in Việt Nam's agricultural production, but is facing challenges, including vulnerability to climate change, changes in river flows, sea-level rise, salinity, land subsidence and construction of upstream dams.
Saving the delta from climate change, upstream developments and unsustainable practices is ultimately a question of agricultural development, which requires a large-scale transformation of current practices, major investment and providing farmers with knowledge of markets, he said.
The forum also saw presentations on various topics such as possible high-yield crops in salty and dry soil like in the delta, sustainable pepper production in Bình Phước Province and demand for education in the agricultural sector.
According to an executive of the East West Seed Company, the agricultural sector needs to increase production by 70 per cent to feed the world population, which is expected to increase to nine billion by 2050.
At the event Dutch and Vietnamese companies signed four memoranda of understanding for co-operation in various sectors.
Fabmax, which specialises in semi-conductor and related solutions, TU Delft, one of the world's top-ranking engineering universities, and the Saigon Hi-Tech Park Labs signed an agreement to support the engineering team of SHTP Labs in the production and distribution of power FET devices in Việt Nam.
Deep Arctic Water BV and Phương Nam Landscape Co. Ltd signed an MoU for technology and knowledge transfer and the roll-out of sustainable, high-tech, affordable, scalable and cost-effective circular agro systems.
Two other agreements were signed between Control Union and Institute of Organic Agricultural Economics and between TEN ID and IDV for introducing and certifying international standards in the agricultural value chain and helping the Mekong Delta shrimp industry achieve sustainability.
Bilateral trade is growing steadily. In 2015 Việt Nam's exports increased by 42 per cent and imports by 37 per cent. The Netherlands is Việt Nam's second largest trade partner in the EU and the largest investor