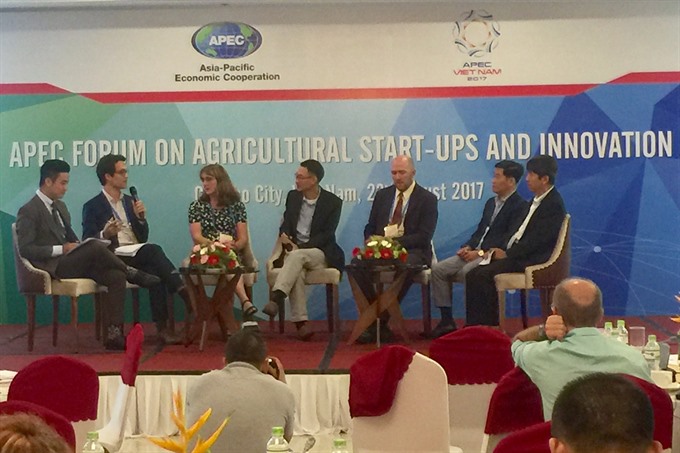 To achieve sustainable growth, besides mass production, the participation of micro-, small- and medium-sized enterprises also needs to be encouraged, Business Advisory Council chairman Hoàng Văn Dũng said at the opening.
But how to increase production and profitability while preserving bio-diversity and natural resource is a difficult question for most businesses, especially small ones, which are limited in terms of capital, market access and management capabilities, he said.
The forum serves as a platform for policy makers, experts and businesses to share insights and work out technological and political measures to support agricultural enterprises, he said.
Dodefroy Grosjean, Asia Climate Policy Hub Leader of the International Centre for Tropical Agriculture, said major changes are to be expected in the agricultural sector due to climate change, growing population and changes in consumer preferences in terms of food.
He later told Việt Nam News that means much innovation is needed to respond to those challenges.
"Many of the innovations already exist here and there but the problem we face is that it has been hard to scale up these innovations to make them widely available. This will be necessary if you want to increase the productivity of the agricultural sector, reduce emissions, making the sector more resilient to the impact of climate change to ensure food security."
Grosjean said the forum is a chance for APEC economies to discuss best practices and lessons learnt from different economies, how they could be replicated elsewhere and what kind of enabling environment could be created to upscale agricultural innovation and technologies.
Deputy Minister of Agriculture and Rural Development Lê Quốc Doanh said to promote agricultural innovation there should be more dialogue between the public and private sectors.
The private sector has proved to be the most adept at turning challenges into opportunities and developing products and services that can ensure sustainable development of the agriculture sector, he said.
Potential and challenges
Nguyễn Khắc Minh Trí, CEO of MimosaTEK, one of the first movers in Việt Nam to leverage the Internet of Things for precision agriculture, said unlike in other sectors, investing in the agricultural sector takes much time and so start-ups in the agricultural sector must foresee market difficulties they may encounter, and especially how to change the mindset of farmers and persuade them to use technology.
Trí said the road for agricultural start-ups is never easy.
"The more you work, the more you learn and the more challenges you face [in doing agriculture startup]. Though there are more challenges there is definitely great progress because the eco-system to support startups has improved and expanded in various sectors including agriculture. As a result, investors have started to engage more in agriculture."
Cao Thăng Bình, a senior agricultural specialist at the World Bank, said to promote start-ups the first requirement is to nurture teams that are good at start-ups.
Policymakers need to enable start-ups to establish or close down their business easily, he said.
Besides, incentives in terms of granting visas are needed to get people with good start-up experience to come to Việt Nam to establish businesses here, he added.