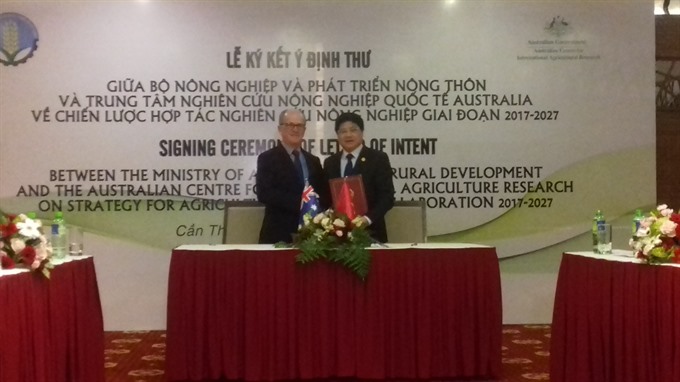 Lê Quốc Doanh, deputy minister for Agriculture and Rural Development and Peter Horne, general manager for country programmes for the Australian Centre for International Agricultural Research, sign a letter of intent to enhance bilateral cooperation in agricultural research in Cần Thơ on Monday (August 21)
The letter was signed by Lê Quốc Doanh, MARD deputy minister, and Peter Horne, ACIAR's general manager for country programmes, on the sidelines of the APEC Food Security Week now underway in Cần Thơ.
Speaking at the signing ceremony, Doanh said that many joint projects between ACIAR and Việt Nam had added value to Vietnamese agricultural products, and had enhanced Việt Nam's agribusiness sector and capacity of scientists and researchers.
"The signing of the letter of intent today is the result of great bilateral cooperation, with joint efforts from researchers and policymakers on both sides," Doanh added.
Horne said the new partnership would have mutual benefits for both countries.
ACIAR, which began its work in Việt Nam in 1993, has completed 170 projects in Việt Nam, worth almost A$100 million (US$72.9 million) in investment in research.
The 10-year strategy provides a roadmap for Australia and Việt Nam to work in equal partnership with mutual contributions and benefits for economic growth, security and innovation, according to Horne.
The strategy will guide future programmes in collaborative research, including research themes, geographic foci and funding priorities from 2017 to 2027.
In the next decade, ACIAR will cooperate with MARD and other partners to continue assisting Việt Nam in addressing obstacles to agricultural development under six research areas: food safety, climate change, soil fertility improvement and crop efficiency, better market engagement, and improvement of value from forests and aquaculture.
ACIAR will implement research all across Việt Nam, focusing on the Mekong Delta, Central Highlands and northwest Highlands.Collaborative projects will focus on highly applicable practices, creating opportunities for women to participate in and benefit from research, agri-business systems and on-farm activities.Việt Nam and Australia enjoy a strong and mutually beneficial relationship, with two-way trade worth over A$10 billion (US$7.9 billion) annually.