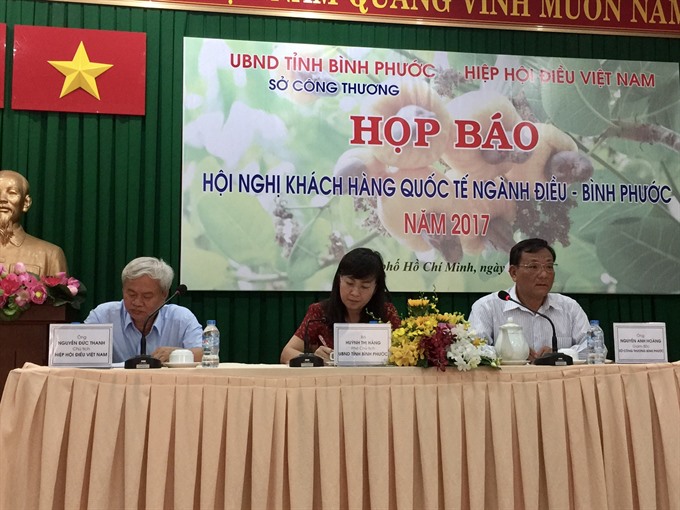 Bình Phước Province officials briefing the media in HCM City on May 5 on international cashew conference to be held in Đồng Xoài town on May 15-16.
HCM CITY — An international clients conference for the cashew industry will be held in southern Bình Phước Province next week to provide an opportunity for cashew farmers, processors and traders to exchange information and explore business opportunities with local and foreign partners.
Nguyễn Anh Hoàng, director of the province Department of Industry and Trade, said planning and developing cashew nut growing areas, clean cultivation based on VietGap standards, cashew industry development policies, and co-operation for sustainable development of the cashew industry would be on the conference agenda.
Fact-finding tours to some local cashew farms and processing facilities would be arranged for the participants, he added.
Huỳnh Thị Hằng, deputy chairwoman of the province People's Committee and head of the conference organisation board, said Bình Phước cashew has been rated among the world's best by experts and international customers.
Therefore, through the conference, the province wants to confirm this quality to international customers and promote exports, she said.
The event would also help local cashew farms and processors and exporters to update global market information and understand customers' needs to expand their market share, she said.
Cashew farming and processing are important to the province's economy as which they employ around 40,000 workers.
The province has some 143,000 hectares under cashew, accounting for over 40 per cent of the country's total, and 270 processing factories and 1,400 cashew trading household businesses.
Last year its earnings from cashew exports were worth US$500 million, or nearly a third of its total export income, she said.
Hoàng said the event is expected to attract representatives from the consulates of the countries importing Bình Phước cashew nut and domestic and foreign associations and enterprises engaged in cashew trade with the province.
It will be held on May 15-16 in Đồng Xoài town.