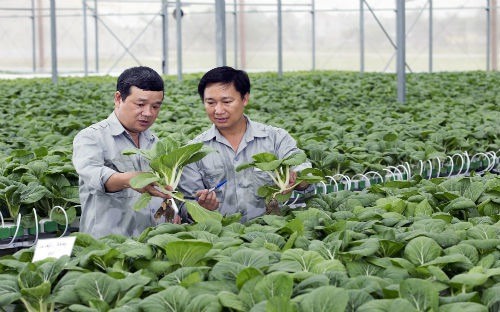 The resolution stipulates that commercial banks must cut operation costs so they can set interest rates for enterprises or individuals engaged in high-tech agriculture production at 0.5-1.5 per cent lower than the current commercial interest rates.
Addressing a conference in the capital city last week, Deputy Prime Minister Vương Đình Huệ said that "before implementing the credit package, the Government, concerned ministries and sectors have to define what is high-tech agriculture and its framework – including high-tech agriculture application, green agriculture and the technology which will be applied."
He also pointed out the need to define "short term, mid term and long term credit packages" to be applied in this programme. "Should we use the short saving term for the mid- or long-term loan or not?" Huệ asked.
Regarding the loan framework, the deputy prime minister asked whether the credit should be disbursed according to development stages of high tech production, or not. He also asked whether individual household involved in high tech production should be included in the list of eligible borrowers, particularly big production households.
"What's more important is that we only lend the money to the right people/households," Huệ emphasised. He added that over the past few years, only roughly 20 enterprises involved in high-tech agriculture accessed creditat low interest rates.
Director General of Agribank, Tiết Văn Thành, and deputy director general of Vietcombank, Đinh Thị Thái, expressed support for the Government's decision. Yet they asked for clear legal requirements on the part of borrowers, including required collaterals to avoid risks. "Low interest rate risks are very high," lamented Thái.
In his conclusion, Deputy Prime Minister Vương Đinh Huệ emphasised the importance of credit packages for high-tech agriculture in the context of the slow growth of the country's primary industry.
He said the Government had already worked out a legal corridor to implement the strategy on high-tech agricultural development.
He assigned the State Bank of Viêt Nam (SBV) to instruct all commercial banks to implement the credit package in accordance to the Government's instructions. Huệ also asked the SBV to work closely with the MARD to periodically monitor the credit programme implementation.
To support banks involved in the program, Huệ ordered the Ministry of Finance to complete as soon as possible a Government decree on agriculture insurance